It's an intriguing question for movie lovers: What film has sold the most tickets?
Based on recent headlines, you'd think it had to be Star Wars: The Force Awakens…or maybe the original Star Wars. Or perhaps one of James Cameron's mega-blockbusters: Avatar or Titanic. Right?
Wrong. The movie that has generated the most ticket sales of all time contains only minimal special effects. Plus, it's been around so long – 77 years now – that only two of its original cast members are still alive.
THE ALL-TIME TICKET-SELLING CHAMP IS…
We know, we know. You're still scoffing from this most unexpected news. ("What? Some old-dude movie?") But here are the facts, from our friends at Wikipedia:
Across all releases, it is estimated that Gone with the Wind has sold over 200 million tickets in the United States and Canada, and 35 million tickets in the United Kingdom, generating more theater admissions in those territories than any other film.
In total, Gone with the Wind has grossed over $390 million globally at the box office.
In 2007 Turner Entertainment estimated the gross to be equivalent to approximately $3.3 billion when adjusted for inflation to current prices, while Guinness World Records arrived at a figure of $3.44 billion in 2014, making it the most successful film in cinema history.
Part of why Gone with the Wind has achieved such huge numbers is the number of theatrical releases the film has had. Since its original run in 1939, the movie has been re-released to theaters no less than nine times.

Everybody wanted dashing Clark Gable to play Rhett Butler – even book author Margaret Mitchell.
THE ORIGINAL BIG, BIG BLOCKBUSTER
The movie made from Margaret Mitchell's hugely successful and Pulitzer-Prize-winning book Gone with the Wind can claim to be the first real blockbuster.
It was truly "years in the making." Casting the film alone took a full two years, and more than 1,400 different actresses were auditioned before British stage actress Vivian Leigh captured the role that would win her a Best Actress Oscar and make her a lasting screen icon.
The script was written and re-worked numerous times. At least three different directors helmed the film at different times. The scope of the film – set in a period that begins right before the Civil War and ends during Reconstruction – was enormous, requiring untold numbers of extras and armies of production personnel.
The story was a mashup of romantic dramas and historical dramas and the movie offered as much emotion as spectacle. The film (overseen by legendary producer David O'Selznick) was bigger and more professionally produced than any blockbuster Hollywood had ever seen.

To re-create the burning of Atlanta, inventive visual effects were created to depict out-of-control fires.
OPENING NIGHT FIT FOR A KING
The Atlanta premiere and first run of Gone with the Wind were events of historical significance – as big as the recent opening of Star Wars: The Force Awakens and probably even larger.
Former U.S. president Jimmy Carter was a young boy in Georgia at the time of the film's release. It was so monumental that he later recalled it as "the biggest event to happen in the South in my lifetime." During his entire lifetime…
Local church choirs were brought in to sing at the movie's opening gala, which lasted for several days. One of the young members of one church's choir who sang at the event would himself grow up to change life forever in the South: Martin Luther King, Jr.

A movie so big it took three directors to finally deliver: The 1939 classic Gone with the Wind.
Meanwhile, as the film opened around the country, incredible lines formed at theaters lucky enough to be running the biggest film of its day. Audiences were electrified by the brilliant portrayal of the headstrong Scarlett O'Hara by Vivian Leigh, as well as Clark Gable's rakish turn as the dashing (and often very funny) Rhett Butler.
Beyond that, the look of the film was nothing short of magnificent. It had romance, drama, action, humor, spectacle and grandeur. In short, everything.
It was a massive piece of entertainment, and a lengthy one. At 238 minutes, nearly 4 hours, the film required an intermission. There was also originally an overture that preceded the opening credits and exit music.
AN EARLY SCREEN FEMINIST AND A MIXED LEGACY
It can be argued that Gone with the Wind's heroine, Scarlett O'Hara, was an early feminist.
There's much evidence in the plot to support this idea, including the fact that she both owns and runs a successful lumber business, is able to kill to protect herself when necessary, and outlives the entire downfall of the South. Scarlett O'Hara is a survivor, which is part of the film's enduring popularity.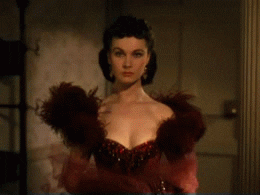 Despite being British, Vivian Leigh proved perfect to play fiery southern belle Scarlett O'Hara.
What is not part of the film's enduring popularity is the fact that this is a film about a time when slavery was the law of the land in the U.S., and it was made at a time when U.S. civil rights laws were still horribly regressive and often cruel to African-Americans.
Critics of the film have pointed out the unfairness of many of its depictions of black characters, and those critics are right.
History, however, is a complicated thing. And while looking at the film now, you can't help but notice its many racially offensive and insensitive moments, there's no doubt that the movie also opened doors for many actors and actresses of color.
This is, after all, the first performance by a black actor to ever receive an Oscar. Actress Hattie McDaniel floored audiences and stole every scene she was in. She received the Best Supporting Actress Oscar, beating out one of her (white) co-stars.
Such ironies make Gone with the Wind a film with a complicated, mixed legacy. Seen from our modern vantage point, we have to judge that the movie now reflects as much about 1930s American society as it does about the 1860s – and what it reveals is often hard to square with our evolved views on race.

A beautiful portrait – many say too beautiful – of a cruel and unfair period of U.S. history.
COME MAKE YOUR OWN CLASSIC FILMS
Despite serious flaws that reflect the worst aspects of its time, Gone with the Wind remains a sumptuous and larger-than-life piece of filmmaking, and one that effectively predicted our current fascination with the blockbuster film.
But now it's time for new storytellers to take command of the medium of film and start crafting the new epics of the Silver Screen.
You can start doing it this summer at Digital Media Academy summer film camps.
DMA has tech camp locations across the U.S. and Canada, and we offer a range of different filmmaking camps and courses, so you can select the one that best speaks to the type of filmmaking you want to do.
The world of film awaits you this summer at DMA.