You already know about Silicon Valley, right? It's the birthplace of modern technology and home to many of the world's leading tech companies…such as Apple, Adobe, Electronic Arts, Facebook, Google, Intel, Netflix, Oracle and many more.
And while Silicon Valley is still called the tech and innovation capital of the U.S., technology has grown so large and powerful that it really can no longer be contained within just one area. So, as technology continues to spread, now there are other tech hubs that have been emerging throughout the U.S.
Here are the major new epicenters of technology:
Silicon Valley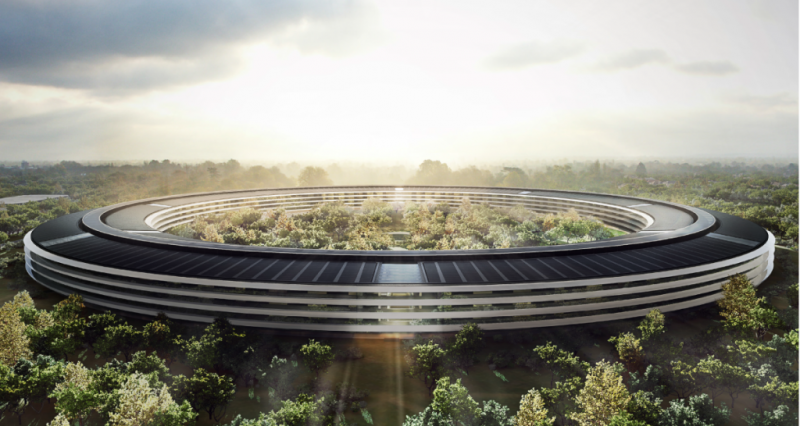 Rendering of Apple Campus 2, scheduled for completion in 2016 .
Where is It?  Silicon Valley is located in the southern portion of the San Francisco Bay Area, in Northern California.
Who's There? Who isn't here? Silicon Valley has been known as the original home for many startup companies and tech giants. From Steve Jobs to Mark Zuckerberg, this tech hub has been the home to many famous figures in computer science.
Google – Founded in 1998, Google is a search engine which allows users to find webpages based on keywords. Today, Google focuses its efforts on everything from social networks to operating systems and even self-driving cars.
Facebook – As the world's largest social network, Facebook is responsible for connecting users all over the world. Chances are that you're a Facebook user.
eBay – One of the largest marketplaces in the world, eBay offers an electronic platform for consumers and businesses to sell or auction their products to users around the globe.
Twitter – Often referred to as the "SMS of the Internet," Twitter enables users to share their thoughts (known as Tweets) in 140 characters or less.
Silicon Alley
Move over, Wall Street. The techies are breaking new ground in Silicon Alley.

Where is It? Centered in Manhattan, Silicon Alley is currently home to more than 300,000 tech employees, and that number is growing.
Who's There? Silicon Alley is home to some of the trendiest and fastest-growing startups in the nation.
Tumblr – The cool way to blog. Launched in 2007, Tumblr is a microblogging platform and social network with extensive HTML editing capabilities.
Foursquare – Foursquare remembers where you go and what you like, in order to provide users with personalized recommendations based on location.
BuzzFeed – Originally a viral video lab, BuzzFeed is now an Internet news media company and  is one of the largest publishers of social media content.
Kickstarter – Following the model of crowdfunding, Kickstarter is a website which allows users to help financially support ideas and projects.
Silicon Beach
Surf's up at Snapchat's Venice Beach house headquarters.

Where is It? Silicon Beach is located in the heart of Santa Monica and extends into western Los Angeles in Southern California. The companies who call Silicon Beach home all have one thing in common: they love the outdoors. With its beautiful beaches, picturesque piers, and nearly 310 days of sunshine every year, tech startups are wasting no time setting up shop in Silicon Beach.
Who's There?  This tech hub is home to big names like Riot Games, Snapchat, SpaceX and Hulu.
Riot Games – Creators of the popular League of Legends online game, which currently boasts 27 million daily players.
Snapchat – The popular app that allows users to send disappearing photos and videos. It is estimated that users send a total of 400 million snaps everyday.
Hulu – This ad-supported online streaming platform allows users to watch their favorite television series and films wherever there is an Internet connection.
SpaceX – CEO Elon Musk stated that, "Sooner or later, we must expand life beyond our little blue mud ball–or go extinct." With this in mind, Musk created SpaceX in order to design spacecraft capable of transporting humans to other planets.
Silicon Hills
Silicon Hills startups have been thriving in Texas' tech capital since the 1990s.

Where is It? Located in one of America's fastest-growing large cities: Austin, Texas.
Who's There? Austin has always been a hot spot for creativity and innovation, so it is no surprise to find big names and some exciting new ones here in Silicon Hills.
Qualcomm – Chances are Qualcomm made the processor in your smartphone. Qualcomm is one of the largest producers of wireless communication products.
Samsung – Silicon Hills is home to Samsung's largest semiconductor facility outside of South Korea.
Blizzard Entertainment – This video-game-development company boasts hit titles such as World of Warcraft and Starcraft, some of the world's most popular game franchises.
Gone – This new app allows users to easily get rid of their unwanted goods. All you need to do is take a photo of an object and Gone will find the right marketplace to sell it.
As tech hubs continue to grow in America, it is important to stay up to date with the best tech education available. Digital Media Academy offers hands-on tech courses and camps in each of these "silicon" locations. Check out the links below and find a course near you:
Silicon Valley  (Stanford University, the University of California, Berkeley & Santa Clara University)
Silicon Alley (New York University)        
Silicon Beach  (The University of California, Los Angeles)